Transforming a Resale HDB into a Cozy and Modern Haven: Design 4 Space Interior Design Singapore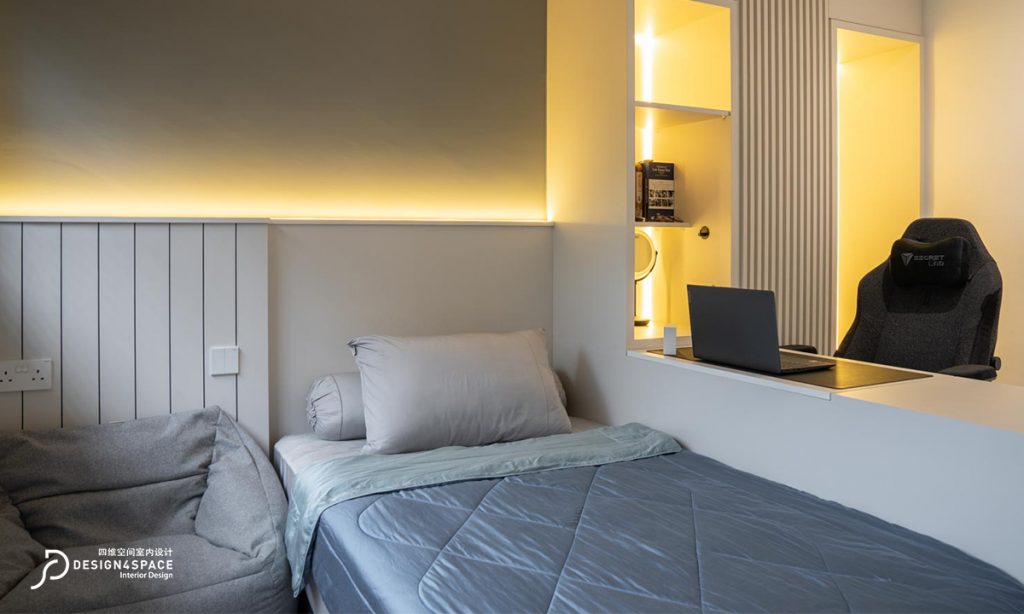 Common bedroom – designed by Shermin Lee ( shermin@design4space.com.sg )
Are you seraching for inspiration to renovate your HDB flat into a cozy and modern space that meets the needs of your family? Look no further! In this blog post, we will take your on a virtual tour of a remarkable interior design project in Singapore. Designed by Shermin Lee from Design 4 Space, this project successfully combined contemporary aesthetics with pet-friendly and elderly-friendly elements, all while following fengshui principles. Let's delve into the details of the inspiring transformation!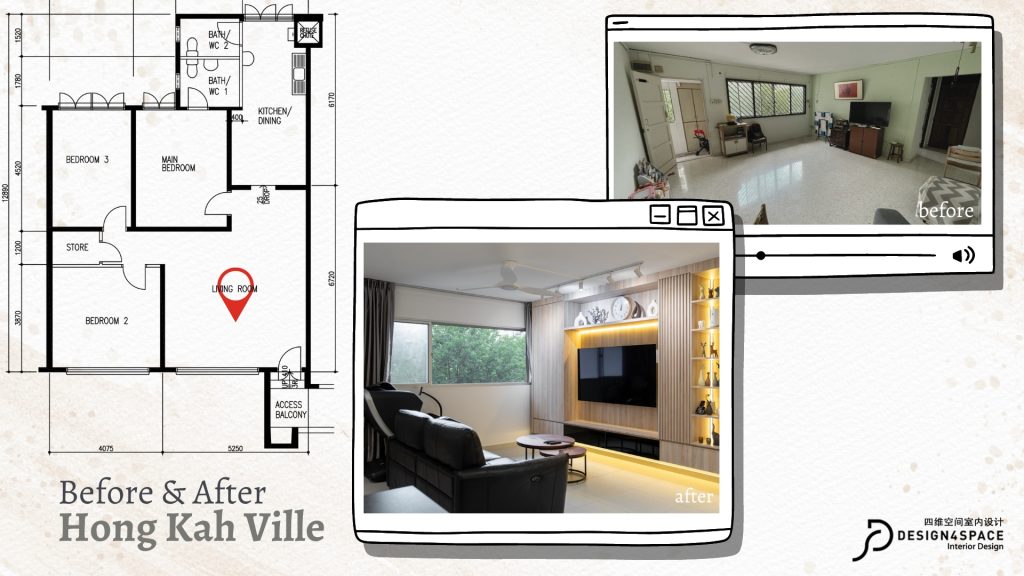 Living Room – designed by Shermin Lee ( shermin@design4space.com.sg )
Located at 464 Jurong West, this HDB 4 Room flat underwent a remarkable renovation journey with a budget of $120,000. The homeowners, a family of four, desired a cozy, modern, and contemporary living space that catered to their specific needs. The project focused on intricate carpentry, detailing, relocating the toilet bowl, and transforming the son's room into a versatile space that would serve as a gaming study area, and display space.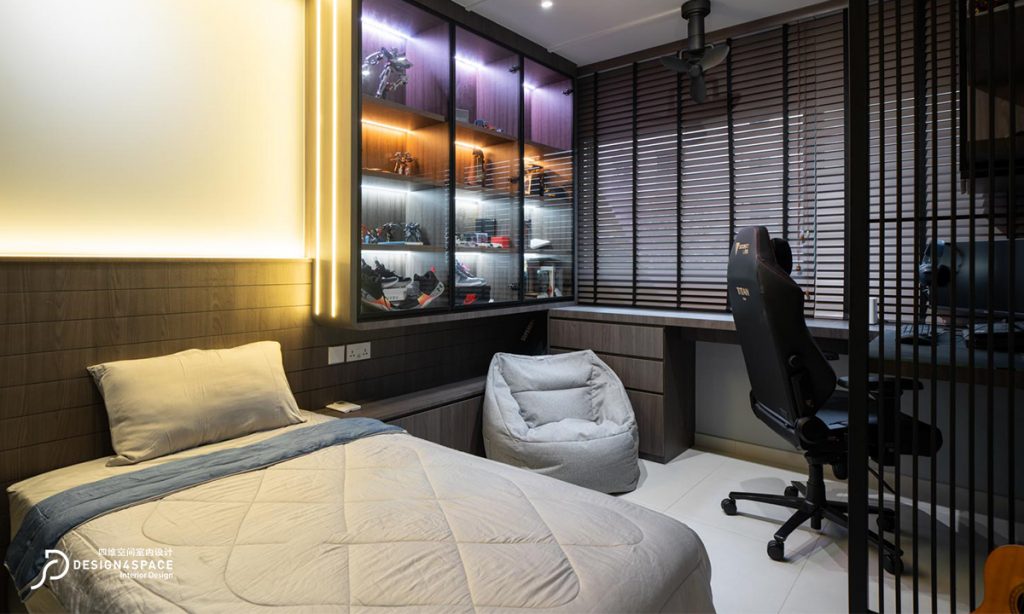 Bedroom – designed by Shermin Lee ( shermin@design4space.com.sg )
Creating a Cozy and Modern Ambience
To achieve the desired cozy and modern ambience, Shermin Lee utilized a carefully curated blend of colours, textures, and furniture arrangements. Warm and earthy tones were employed to create a welcoming atmosphere throughout the living area. Plush rugs, comfortable seating and stylish curtains added a touch of elegance, making the space ideal for relaxation and family bonding.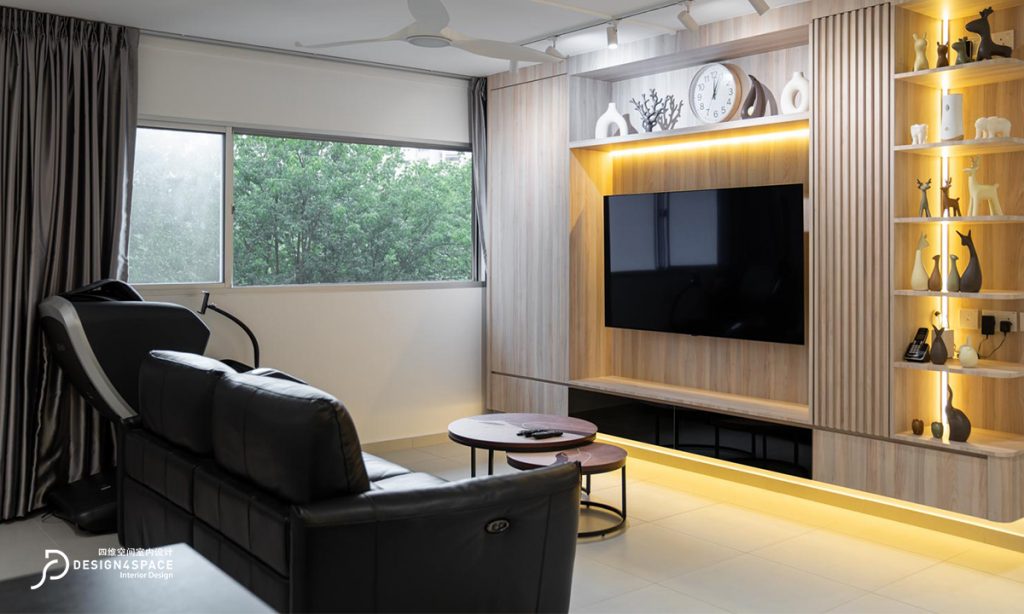 Living room – designed by Shermin Lee ( shermin@design4space.com.sg )
Pet- Friendly and Elderly-Friendly Elements:
Understanding the importantce of accommating furry friends and elderly residents, special attention was given to incorporating pet-frienly and elderly-friendly features. Durable and easy-to-clean flooring materials were selected, ensuring a safe and comfortable environment for pets. Grab bars and handrails were strategically placed in key areas to provide stability and support for the elderly. The layout was optimized for wheelchair accessibility, eliminating any potential obstacles.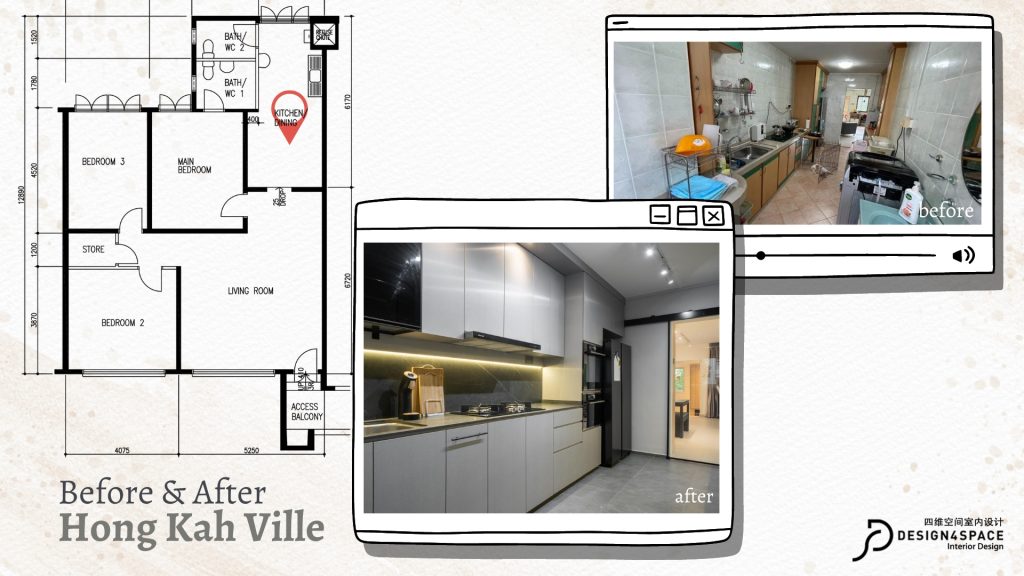 Kitchen – designed by Shermin Lee ( shermin@design4space.com.sg )
Fengshui Intergration
In harmony with client's desire for a balanced living environment, Shermin Lee skillfully integrated fengshui principles throughout the design. Collaborating closely with the homeowners and a fengshui expert, the placement of furniture, choice of colours, and arrangement of decor elements were meticulously considered. By incorporating natural elements and optimizing the flow of energy, a harmonious and positive living space was achieved.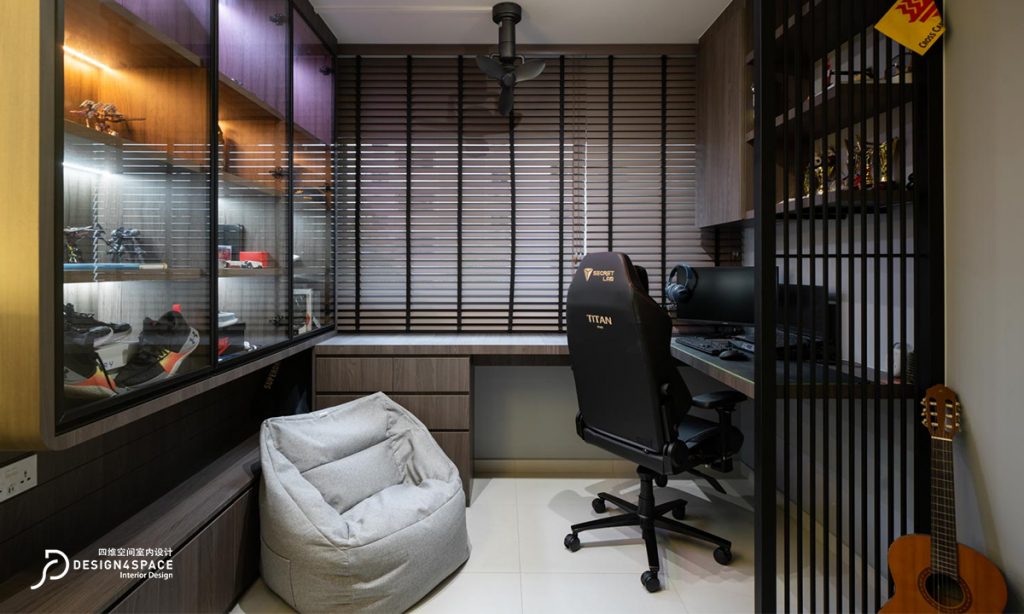 Bedroom – designed by Shermin Lee ( shermin@design4space.com.sg )
Son's Room Transformation
One of the highlights of this project was the transformation of the son's room into a multifunctional space. Shermin Lee designed a dedicated gaming area with ample storage for gaming consoles and accessories. A study area with a spacious desk and ergonomic chair was also included to provide a comfortable space for studying. Additionally, a display area was incorporated to showcase the son's achievements and collectibles, reflecting his personality and interests.
This incredible interior design project in Singapore, brought to you by Shermin Lee from Design 4 Space, showcase how a resale HDB flat can be transformed into a cozy and modern haven. By prioritizing the client's requirements for a pet-friendly and elderly-friendly environment while adhering to fengshui principles, this renovation exceeded expectations. If you're looking to revamp your space and create a harmonious living environment, contact Shermin Lee at shermin@design4space.com.sg. Get ready to embark on your own remarkable renovation Journey!

View the entire album here!

Interior design Singapore, cozy and modern, pet-friendly, elderly-friendly, fengshui principles, HDB 4 Room, hacking, tiling, painting, plumbing , electrical, carpentry, glass works, door works, Design 4 Space, Shermin Lee, Jurong west, resale HDB