Landed House Rebuild Singapore
Design 4 Space specializes in carrying out industrial design for all kinds of HDB properties in Singapore. The Housing and Development Board is responsible for all kinds of public housing properties development in Singapore. In order to make the most of the property that you are staying in, it is important that you make use of Industrial Interior Design solutions that can help you to get the most out of it. One of the best things about the industrial interior designing solutions that we offer here at Design 4 Space is that is helps to create a rather unfinished and rustic look to the interiors of your home. This makes the interiors of the residential place stunningly beautiful and one of a kind. So if you are planning on getting some renovation work done to your home, make sure that you consult with us at Design 4 Space for having the finest HDB Interior Design services that money can buy.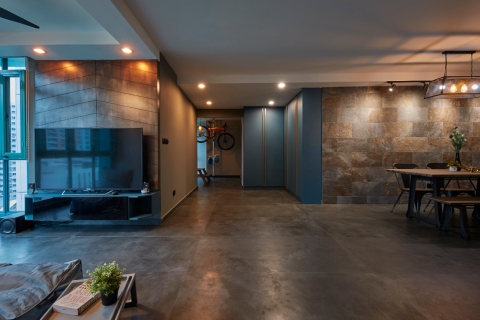 In order to provide with industrial HDB design Singapore solutions to our patrons, we always take inspiration from architectural trends and practices from late 19th as well as the early 20th century. Many of the works that we perform have been inspired by ideas from old fashioned factories. Many of the factories that we explore for innovative design ideas have actually been left abandoned as globalization took root in these areas. To make sure that these spaces are not just wasted without any reason, architects specializing in HDB Design work carry out refurbishing of these areas so that they can be used as residential living spaces. A HDB room designed to perfection can stand out from the rest and give the homeowner a sense of uniqueness while living there.
As a company that has been carrying out industrial interior design work for quite some time now, we at Design 4 Space always believe in adhering to the highest level of excellence when it comes to managing any and every project. We have got some of the most gifted architects and designers working for us and they can balance the best of aesthetic design and functionality while working on a HDB space. Industrial HDB design Singapore has always focused on making the best use of the existing infrastructure of the building. This is why the raw elements of the building remain completely untouched. When such elements are completely integrated to the residential building, it gives rise to a highly unique ambience.
Once you have decided that you are going to avail industrial HDB design Singapore solutions, we at Design 4 Space can provide you with the custom solutions that you are looking to have for your apartment. You can consult us for providing you with the one of a kind industrial design expertise that makes use of raw materials and their unique looks. Instead of hiding the raw materials from direct sight, we are going to emulate them so that the ambience of the entire area is taken to whole new levels of greatness.