Residential Renovation Contractor Firm in Singapore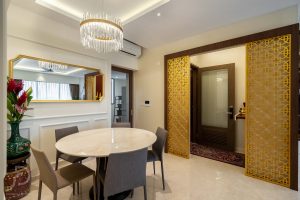 Design4space is your one-stop shop for a successful renovation firm in Singapore. For many years, we have been one of the best residential renovation Singapore firms due to the high quality of our work.
Our team is managed by professionals with years of experience in the field of building construction and interior design. We are well-versed in commercial refurbishment projects of all sizes. To this end, we pledge to constantly go above and above for our patrons.
Please do not wait to get in touch with us if you have any questions regarding our offerings or would want to set up a consultation.
Choose The Top Residential Renovation Firm
With our expertise in residential renovation Singapore, Design4space can help you make your house into the home of your dreams. We are a one-stop shop, providing architectural, construction, and interior design services.
Renovations and additions are also within the scope of our expertise. As the top residential renovation firm, we can also assist you in creating an orderly and relaxing environment in your home.
Our thoroughness and dedication to high-quality work guarantee that your refurbishment will be completed properly the first time around, extending the life of your investment.
Design4space is the top residential renovation firm staffed by talented architects, interior designers, and construction workers who want to see your vision become a reality.
We can help you remodel your current home, construct an addition, alter the layout and style, or even construct a brand-new house from the ground up. We have the expertise and means to provide you with exactly what you need.
Our staff is comprised of veterans of the field who have extensive experience. Let us say you live in Singapore and need a renovation contractor Singapore that will treat you like an individual and pay close attention to every detail. If so, we recommend checking out Design4space as a first step.
We offer a wide variety of services, including kitchen renovation, bathroom renovation, and regular home maintenance, because we think you deserve the finest for your home.
Since we are the leading residential renovation Singapore company, you can trust that your project will be handled carefully by specialists who appreciate the personal significance of their work to you and your family.
Singapore's Most Trustworthy Remodeling Company
You may rest assured that our work will be of the highest quality, and that we will go above and above in terms of service. The following are only some of the services we offer:
Consultation in interior design
Interior design services
Kitchen and bathroom redesign and remodeling
Installation, repair, and re-enamellization of flooring
We want the process of selecting a home improvement project to go as smoothly as possible for you. Instead of stressing about the renovation work, we will handle it so that you can concentrate on other aspects of your life.
You may rest confident that we will do all in our power to prevent any problems or delays in the completion of your home improvement project.
You do not want to hire a novice who does not know what they are doing when you are looking for a renovation contractor Singapore to help you remodel your home. You should hire a professional who has worked in the field before and knows what needs to be done.
Because of this, we at Design4space, a leading renovation firm in Singapore, think a home should be more than just a place to sleep. Because of this, we will work with you together to ensure that your custom house is exactly what you envisioned.
Our clientele adores us because we always deliver a beautifully designed home that is uniquely theirs. We value our customers and work hard to meet or exceed their expectations while keeping our rates cheap.
We provide comprehensive interior design services as well as exterior improvements to help you get the most out of your budget without sacrificing the quality of your project.