Bathroom Renovation Singapore
Design 4 Space is a renowned interior designing company in Singapore that offers comprehensive design and renovation solutions for all kinds of properties. We have been providing top of the line Bathroom Renovation Singapore solutions to our patrons in Singapore for a long time, making sure that they are always happy with the quality of our work. Your bathroom is a very private part of your home, and it reflects your personal sense of style. It is an intimate corner of your home that is like a part of you that you do not reveal to the outside world. Therefore it is no wonder that you want this area of your home to be just the way that you are.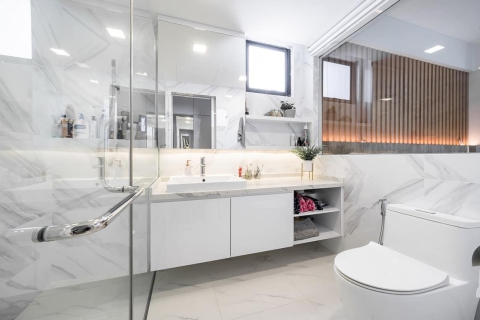 Here at Design 4 Space, we are intimately aware of everything that is associated with a bathroom interior design project and so we can help you out when you are trying to get your bathroom area remodeled and renovated. Whether you are looking to get new tiles set up in the bathrooms walls and ceiling, install a glass partition for the showering area or have some plumbing work done, our bathroom renovation experts can surely have you all covered. If you are not sure about the materials that you want to have in your bathroom space, we will help you to make the best choices as per your budget and design preferences. As you choose us for your bathroom renovation Singapore project, we will also take care of the HDB permits for you so that you have got nothing to worry about.
A bathroom renovation project can be small or major and you may choose to get only a small part of the area renovated or go for a complete renovation. When we start working on your property to provide you with the bathroom interior design work that you are looking for, you can count on us for performing a thorough job at every step of the way. We are always receptive to the ideas of our patrons and if you want the renovation work done in a certain way; we can incorporate such ideas for you while we are renovating the bathroom area. We are adept at beautifying your bathroom space in a way that you would just love to spend more time there. We can also consider the general style of your apartment and make sure that the bathroom area is stylistically similar. This can naturally enhance the level of the bathroom renovation Singapore work that we do for you.
Being a company that has been working on bathroom renovation tasks for a long time, we have been focused on providing value to our clients so that they consult us again in the future. Since we will try to make sure that your bathroom is both functional and beautiful, you can surely get the most out of the investment that you make for your bathroom renovation project. So make sure that you consult us at Design 4 Space for having bathroom renovation services.