Transformative Home Renovation in Punggol: A Modern Marvel by Vincent Chuah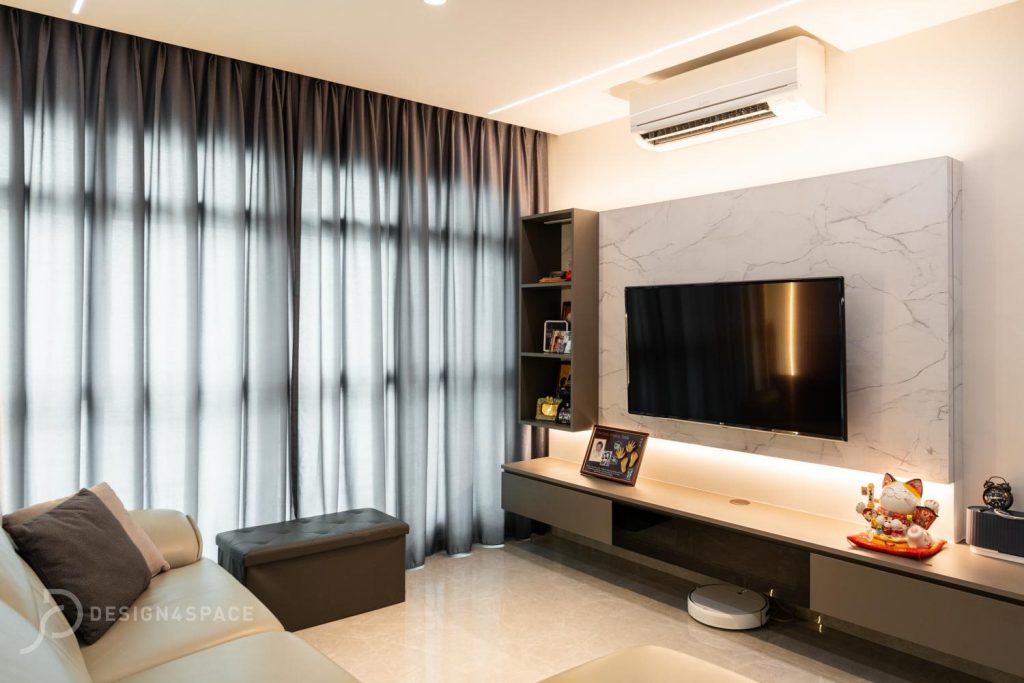 Living Room – designed by Vincent Chuah ( vincent@design4space.com.sg )
Are you ready to embark on a journey of interior transformation? Look no further than this spectacular project brought to life by the innovative expertise of Vincent Chuah from Design 4 Space. Nestled in the heart of Punggol, this rejuneated abode showcases the remarkable fusion of modern aesthetics, functional design, and personalized touched that speak volumes about the homeowner's distinctive style.

Project Overview:
Location: 201 Punggol Field
Renovation Budget: $84,000
Homeowner: A family of 3
Project Condition: Resale
Project Type: HDB 5 Room
Client's Vision and Highlights: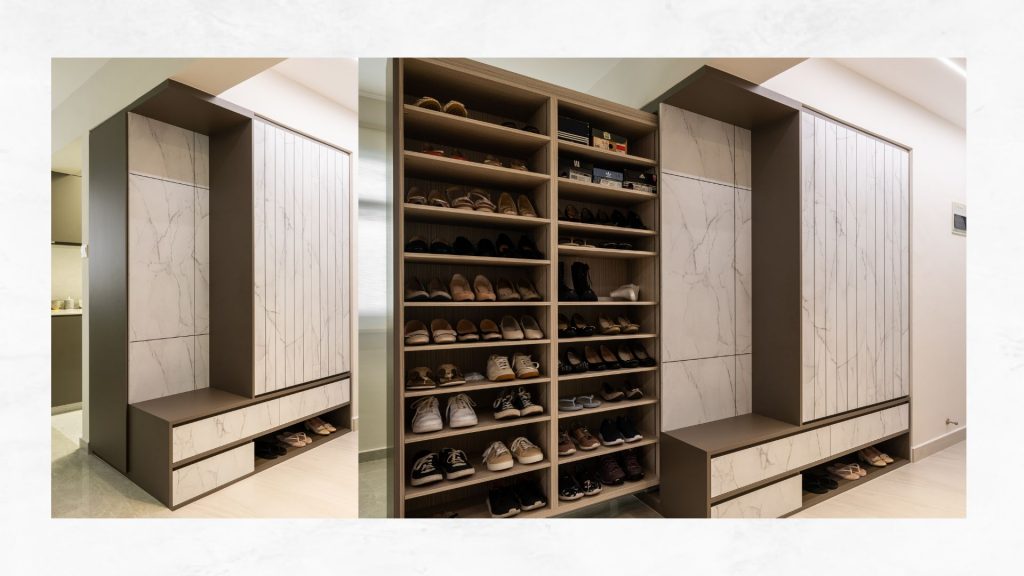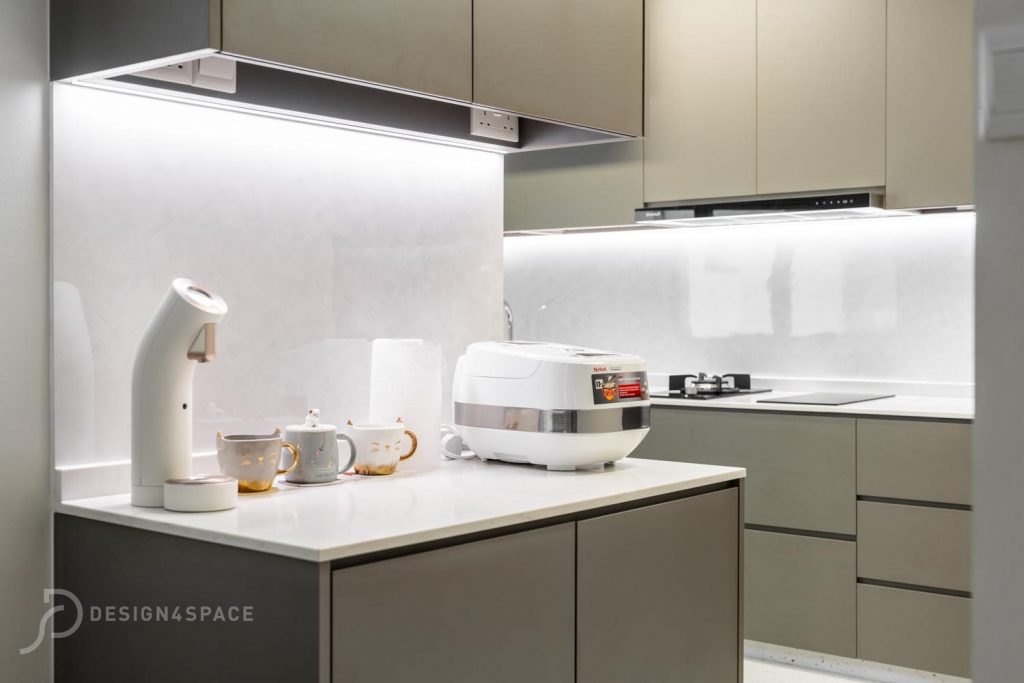 Kitchen Area – designed by Vincent Chuah ( vincent@design4space.com.sg )
Vincent Chuah's mission was clear: to breathe new life into this 20-year-old home while aligning with the homeowner's vision. The project's essence revolves around functional innovation and personalized comfort. One of the highlights is the ingenious pull-out shoe cabinet, an incredible space-saving marvel that not only optimizes shoe storage but also ensures effortless accessibility.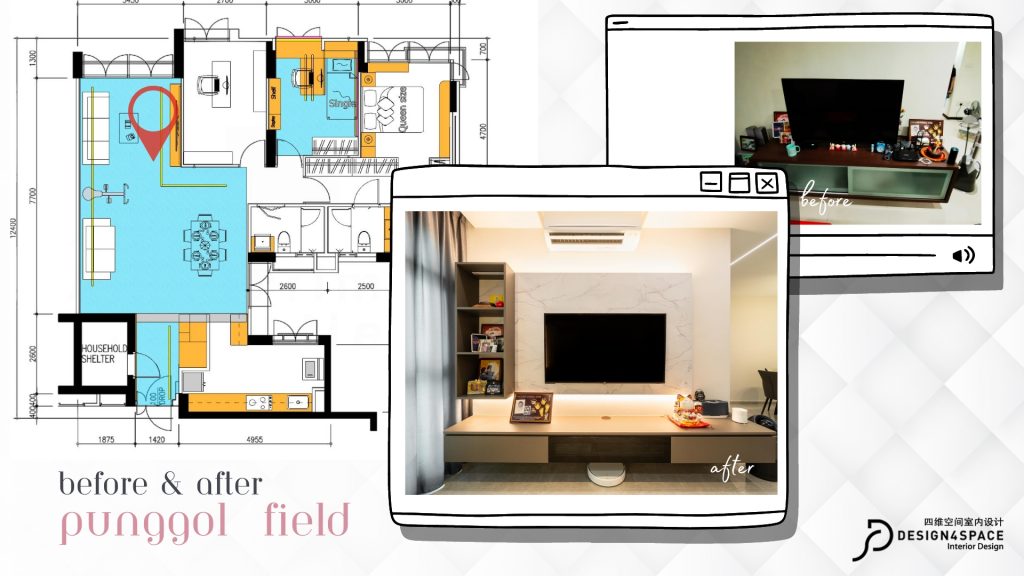 before after living area – designed by Vincent Chuah ( vincent@design4space.com.sg )
With a keen eye for detail, Vincent crafted a dedicated study table within the daughter's room, fostering an environment conducive to focused learning. The integration of the Wet and dry toilet concept adds a touch of luxury and convenience, exemplifying the project's holistic approach to renovation.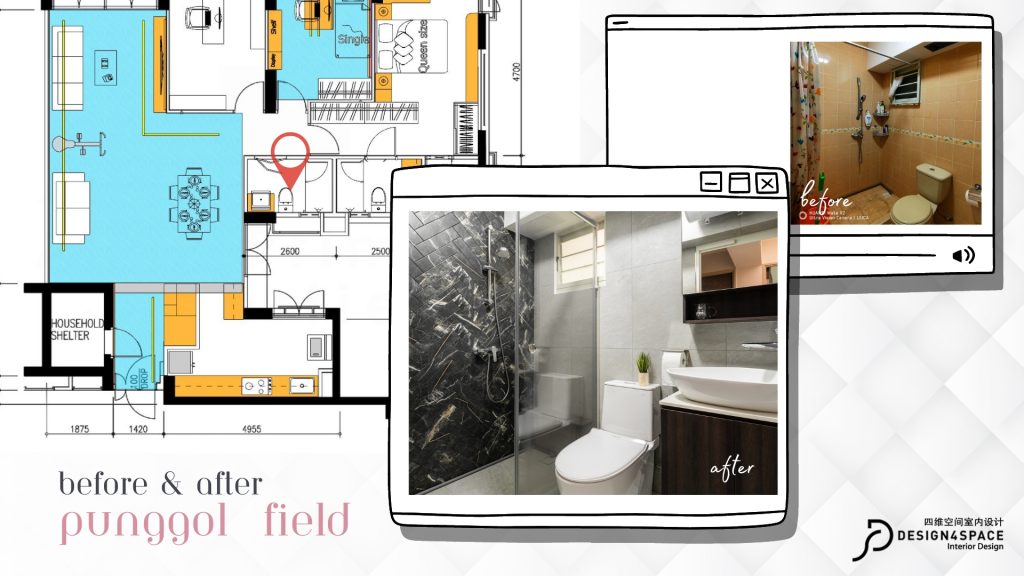 before after common bathroom area – designed by Vincent Chuah ( vincent@design4space.com.sg )
The result? A harmonious blend of functionality and elegance that effortlessly resonates with the family's lifestyle and aspirations.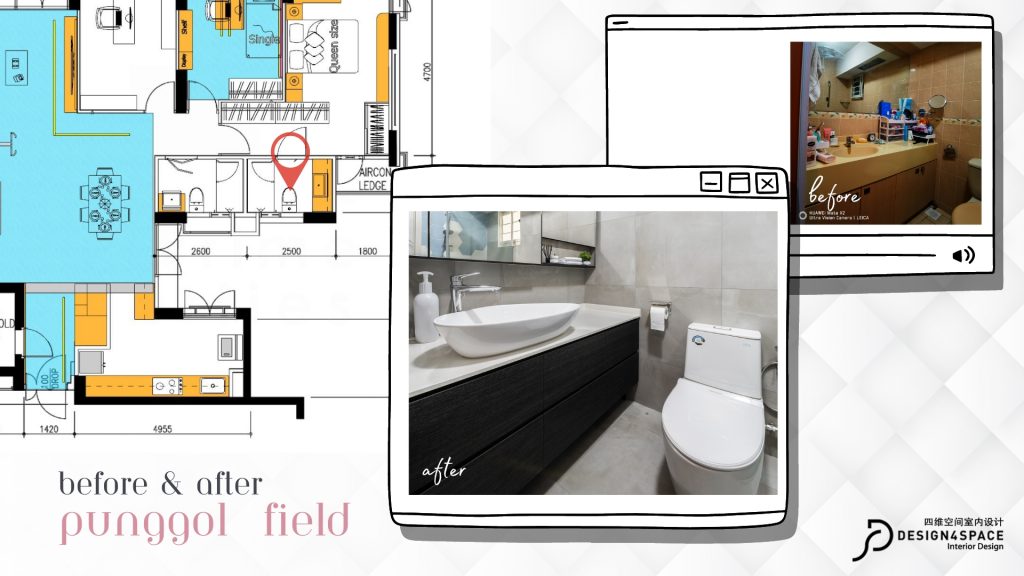 before after master bathroom area – designed by vincent chuah ( vincent@design4space.com.sg)
Scope of Work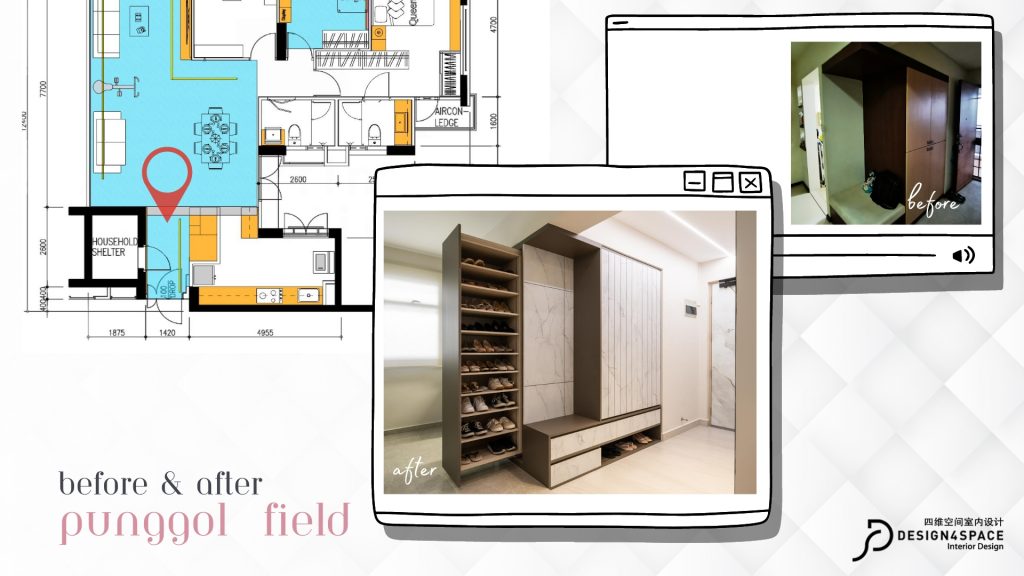 Entrance area – designed by Vincent Chuah ( vincent@design4space.com.sg )
The renovation process involved an array of intricate tasks, including hacking, vinyl flooring installation, tiling, painting, false ceiling installation, plumbing, electrical work, carpentry, glasswork, and door installation. Each element was meticulously executed to bring the client's vision to life.
Homeowner Testimonial
Living Area – designed by Vincent Chuah ( vincent@design4space.com.sg )

"Peace of Mind with Vincent Chuah"
We are always dreaded having the idea of renovating…but we have to as our flat is of 20 years old, everything is going to south…my gal is grown up and needed a space which suits her current need. But with so many bad and even horror news/experiences we heard from media, friends that going into renovation is like betting of "heng" or "suay".
To us, a good ID of course is trustworthy, will not jump ship half way, open for communication, patience, resourceful and respectful….Thus when our friend recommend Vincent, you know for them to recommend someone, this guy must be very capable and must have able to met their extremely high expectation. And subsequently it proves, working with him is sort of breeze to us.
If only we can upload our before photos and this will show how good is Vincent. He has changed our house from a very worn and outdated design into a 'head-turner' haha. The photographs we have upload are those areas that he have spent the most of his effort and brain juice for us, and we love love the ultimate result.
We are so glad that our friend's recommending him and it is a very smooth (sometime fun) journey with him, we could not thank him so much for going all out to help us have such a beautiful house, we are a very proud homeowner now. Design-4-Space should keep him at all costs.

Design
Out of what we have expected. We have received so many "wow" from friends and families that they never expected the changes of our house. We are so proud now because of Vincent Chuah.

Workmanship
Overall very good. The workers attitude are very good and they have no fuss to re-do should we have different opinions.

Service
We have totally no complaints. In fact we feel bad always bugging him way after working hours…Some of you might said this is what a ID job is required but everyone have a family, Vincent is always there to make sure our queries, worries or doubts are being addressed.

Value for Money
Definitely so long with Vincent Chuah. From beginning till the wrapping up of the project, we never once feel being abandoned and this is what an homeowner most fear.
Link to testimonials: https://www.design4space.com.sg/testimonials-white/germain-tan/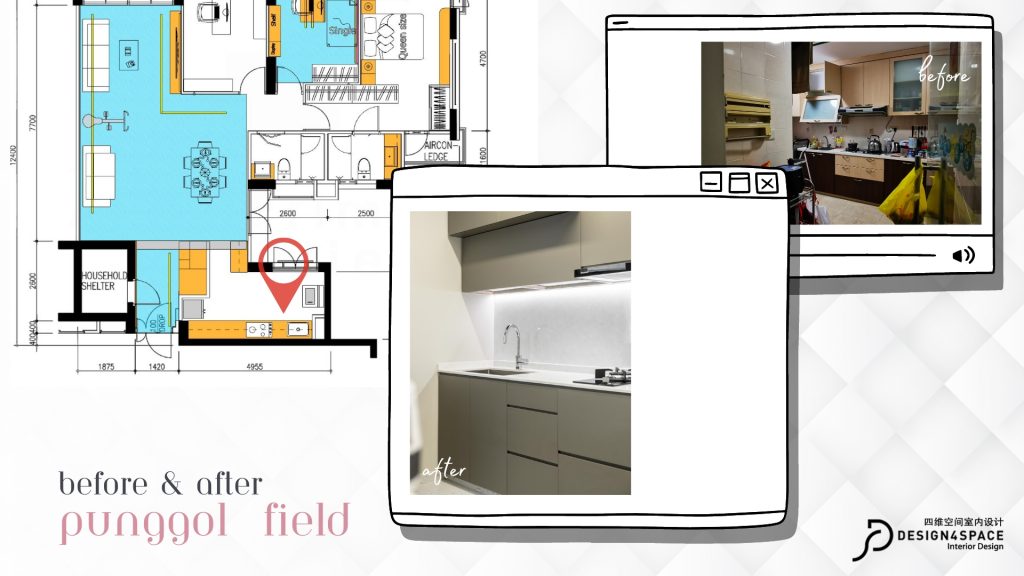 Kitchen area – designed by Vincent Chuah ( vincent@design4space.com.sg )

"Peace of Mind with Vincent Chuah" – The homeowners' testimonial stands as a testament to Vincent Chuah's exceptional dedication and craftsmanship. From open communication to resourcefulness and respect, Vincent ticked all the boxes. The transformation was so remarkable that friends and family couldn't help but exclaim in awe.
The homeowners expressed their gratitude for the seamless journey, praising Vincent's commitment to ensuring their queries and concerns were addressed promptly. They felt valued and supported throughout the project, which made all the difference.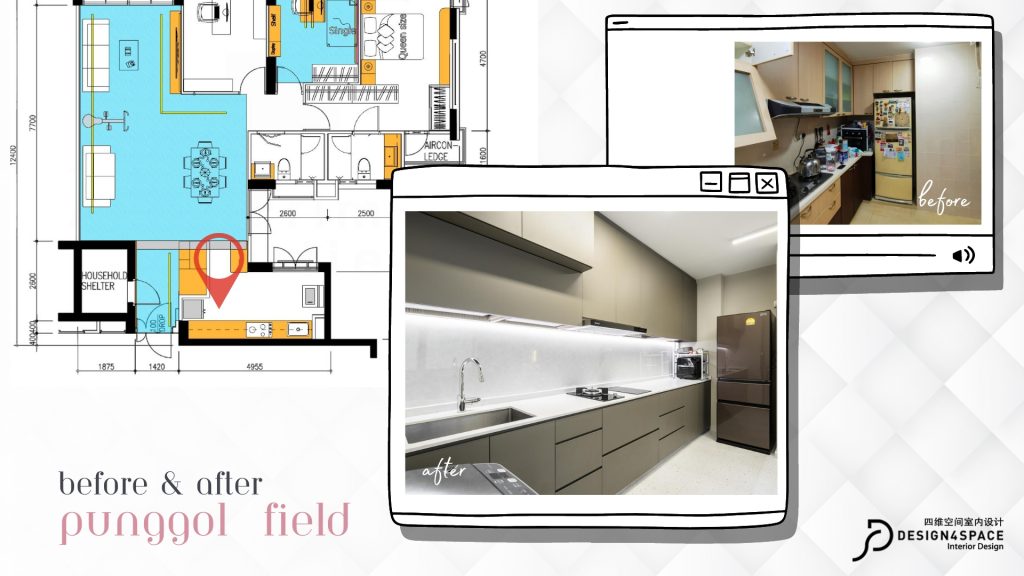 Kitchen area – deisgned by Vincent Chuah ( vincent@design4space.com.sg )

In Conclusion
This Punggol home's transformation is a testament to the power of thoughtful design, innovative solutions, and a skilled professional like Vincent Chuah. The project doesn't just breathe new life into the space; it enhances the family's everyday living experience.
Are you ready to embark on your own home renovation journey? Let Vincent Chuah and Design 4 Space guide you to a space that reflects your personality, aligns with your needs, and transforms your house into a home that you're proud to call your own.
For more inspiring transformations and expert design insights, visit Design 4 Space's punggol field portfolio.